Visual Arts
Current Exhibition: Feeding The Oceans 
We rely on our oceans to feed us, but what are we feeding the oceans? Oceans are the recipient of our taxing agriculture, construction and home landscape maintenance practices. How much is too much? When do we really listen to the ocean but for our own enjoyment? What will we do when the ocean no longer provides?
These are just a few questions in view of this call to artists. Yes, the oceans are beautiful with many stunning life forms under water. We call on artists to show the whole story in this exhibit month of October at Fogartyville. The artwork will set the stage for planned events and discussions about our waterways that feed the oceans.
Monday, October 1 from 3-7pm Receiving art at Fogartyville, 525 Kumquat Ct (back entrance)
Saturday, October 6 Opening reception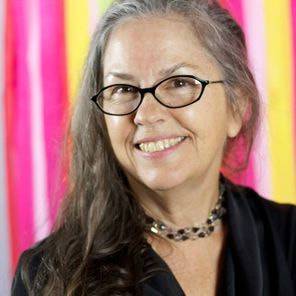 From the Curator
Pamela Callender holds a Masters of Fine Art degree in Interdisciplinary Arts (MFAIA) from Goddard College in Plainfield, Vermont, and a Bachelor of Arts degree in Visual Arts from Eckerd College, in St. Petersburg, Florida. Her undergraduate minor degree in Human Development advanced her ten-year career as a Ballroom Dance Certified Educator at Manatee School for the Arts (middle/high Arts Charter school), in Palmetto, Florida.
In 1999, she founded Spats Youth Dance Sport Foundation, a non-profit with a mission to make Ballroom Dancing affordable to all children. She has directed, choreographed, and produced numerous youth Ballroom Dance programs serving communities in the Gulf Coast area.
Throughout her career, Pamela has continued to explore new means of visual expression inspired by music and movement. Her more recent work utilizes mixed media, photography and sculpture to explore the fine line between the beauty and the degradation of human impact on the environment.
---
Call For Artists: Textile Art Exhibition
Textiles are a medium that span a wide range of diverse processes, materials, and presentations to capture artists' values and experiences.
The Fogartyville Community Media and Arts Center would like to call on artists to share and highlight this diversity and experience in our upcoming Textile Art Exhibition, December 2018 through January 2019. We aim to showcase a variety of textile works and expand our community's definition of the textile art medium.
Dates of Show: Saturday December 1, 2018- Saturday January 26, 2019
Submit to: fogartyvilleart@gmail.com
Drop Off- Monday Nov. 26th, 2018.
Pick Up- Sunday Jan. 27 2019.
Location: Receiving Artwork @ Fogartyville (back entrance) 525 Kumquat Ct. Sarasota, FL 34236
Contact: (941) 894-6469
Raven Skye McDonough, Go to the Light, mixed media collage
Classically trained at The School of Worcester Art Museum in Massachusetts, Raven Skye McDonough is an internationally recognized Florida-based artist. Raven's deep spiritual connection and social awareness has her tackling subject matter ranging from war, environmental issues, political concerns, women's issues and mankind's journey to become enlightened beings. Raven uses 2 different collage techniques that she developed over the years, along with painting in Acrylics, to create truly unique art.
***********************
Exhibit Schedule
2018-2019
Feeding the Oceans
Saturday, October 6 – Sunday, November 25, 2018
Textile Art
Saturday, ​December 1 – Sunday, Jan 27, 2018
Emerging Artists Showcase
Friday, February 1 – Sunday, March 31, 2019
Mexico World Cultures Initiative
Friday, April 5 – Sunday, May 26, 2019