Visual Arts
Emerging Artist Showcase
Friday February 1, 2019   8:00-10:00 P.M.
Fogartyville Community Media and Arts
525 Kumquat Ct., Rear, Sarasota, FL 34236
     WSLR+Fogartyville are pleased to present an Emerging Artists Showcase on Friday, February 1st.  Opening night of The Emerging Artist Showcase will feature emerging performing artists as well as visual artists.  Come out and support the alternative arts landscape in Sarasota.  Doors will open at 7pm and the program will begin at 8pm. Admission is $5 for adults and ½ price for students.
         Visual artists that will be part of the exhibit include Rebecca Quigley, Dganit Greier, AJ Wolff, Erik Neikrug, Sherry Svekis, Debby Hall, Chris McCormack, Cordelia Oehmig, and Jackie Bennett.  The visual art will remain on display through March 31.  Fogartyville will be open weekly for viewing from 4pm-6:30pm every Tuesday.            
    Opening the show on Friday will be musicians and spoken word artists from Greatness Beyond Measure.   Greatness Beyond Measure was designed to help teens and young adults realize their maximum potential: academically, socially and artistically. They recently performed for an enthusiastic crowd at the MLK Community Breakfast.  Also sharing their talents on opening night will be Sharon Fitzpatrick, Joshua Nwankwo, Len Seligman, Kathryn Pompey, and Snousha
Glaude.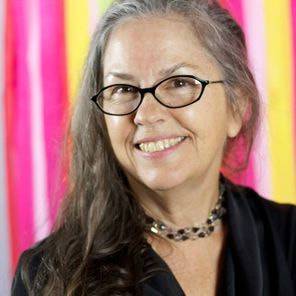 From the Curator
Pamela Callender holds a Masters of Fine Art degree in Interdisciplinary Arts (MFAIA) from Goddard College in Plainfield, Vermont, and a Bachelor of Arts degree in Visual Arts from Eckerd College, in St. Petersburg, Florida. Her undergraduate minor degree in Human Development advanced her ten-year career as a Ballroom Dance Certified Educator at Manatee School for the Arts (middle/high Arts Charter school), in Palmetto, Florida.
In 1999, she founded Spats Youth Dance Sport Foundation, a non-profit with a mission to make Ballroom Dancing affordable to all children. She has directed, choreographed, and produced numerous youth Ballroom Dance programs serving communities in the Gulf Coast area.
Throughout her career, Pamela has continued to explore new means of visual expression inspired by music and movement. Her more recent work utilizes mixed media, photography and sculpture to explore the fine line between the beauty and the degradation of human impact on the environment.
---
Featured Artist: AJ Wolff – "Two Hearts"
Call For Artists: World Cultures – Mexico
Call to Artists, Vendors, Dancers & Musicians
 Opening Night Celebration – Saturday, April 6, 7pm – 10pm
Mexico's culture is rich, colorful and vibrant, influenced by its ancient civilizations such as the Aztec and Maya as well as European colonization.  Festivals and fiestas are extremely important in Mexico and celebrated even in the smallest villages. 
The Fogartyville Community Media and Arts Center calls on artists to submit work that celebrates the history and culture of Mexico.  We aim to showcase a variety of media – pottery, textiles, paintings, photographs, mixed media, music, books, etc.
For our 'World Cultures: Mexico' Opening Night Celebration on Saturday, April 6thwe'd like to create some of the spirit of a Mexican fiesta and are also looking for local food and craft vendors, as well as musicians and dancers.
Dates of Show:Saturday, April 6 – Sunday, May 26, 2019
Submit to:   fogartyvilleart@gmail.com
Drop Off-Monday, April 1, 2019,  3-6pm;
Pick Up– Tuesday, May 28, 2019, 3-6pm
Location:Receiving Artwork @ Fogartyville (west entrance) 525 Kumquat Ct. Sarasota, FL 34236
Contact:Pam Callender,Fogartyville Curator, 941-932-2993
                      ***********************************
Culturas del Mundo: Mexico
Un llamado a Artistas, Vendedores, Bailarines y Musicos
 Celebracion de la Noche de Apertura – Sabado, Abril 6, 7pm – 10pm.
 La cultura de Mexico es rica, colorida y vibrante, influenciada por sus civilizaciones antiguas Azteca y Maya, asi como por la colonizacion Europea.  Los festivals y fiestas son extremadamente importantes en Mexico y son celebrados hasta en los pueblos mas pequenos. 
El Centro Comunitario de Medios y Artes Fogartyville hace un llamado a los artistas para presentar sus trabajos que celebran la historia y cultura de Mexico.  Queremos exponer una variedad de medios – ceramicas, textiles, pinturas, esculturas, fotografias, musica, libros y en general, todo tipo de arte.
Para nuestra Celebracion de la Noche de Apertura, Culturas del Mundo: Mexico,  el dia sabado, Abril 6, nos gustaria recrear el espiritu de una fiesta Mexicana y tambien estamos buscando comida local y vendedores de artesanias, asi como musicos y bailarines.
Fechas de la Exposicion :  Sabado, Abril 6 – Domingo, Mayo 26, 2019
Comunicar interes en participar:   fogartyvilleart@gmail.com
Entrega de las obras de Arte:             Lunes, Abril 1, 2019,  3-6pm;
Recogida de las obras de Arte:            Martes, Mayo 28, 2019, 3-6pm
Lugar:  Para recibir las obras de arte en Fogartyville (entrada oeste) 525 Kumquat Ct. Sarasota, FL 34236
Contactar:  Pam Callender, Curadora de Exposiciones en Fogartyville , 941-932-2993
***********************
Exhibit Schedule
2018-2019
Feeding the Oceans
Saturday, October 6 – Sunday, November 25, 2018
Textile Art
Sunday, ​December 2 – Saturday, Jan 26, 2018
Emerging Artists Showcase
Friday, February 1 – Sunday, March 31, 2019
Mexico World Cultures Initiative
Saturday, April 6 – Sunday, May 26, 2019