Sarasota County applies for $200m in federal disaster grants
Written by WSLR News on Thursday, September 14, 2023
But it doesn't do so without one commissioner trying to redirect dollars to his priorities.
By Johannes Werner
Original Air Date: Sept. 13, 2023
Official Transcript
Host: Sarasota County could soon receive some $200 million in federal funding for recovery from Hurricane Ian. That's what HUD – short for the U.S. Department of Housing and Urban Development – told the county in May. This is a big chunk of money, equivalent to 10% of the county's annual budget. So in July, county staffers organized a task force. They called it Resilient SRQ, and over six weeks they gathered public input, to figure out what needs have not been met by insurance companies and government. Yesterday, they presented the county commission with the results, in the shape of a spreadsheet, to get their approval to send this application to Washington. Our news team has its eyes on what followed.
Johannes Werner: Led by Laurel Varnell, a task force of county staffers yesterday presented to the county commission a spreadsheet with line items totaling $201.5 million they suggest are the best way to cover unmet needs in the aftermath of Hurricane Ian.
The staffers propose spending $101.5 million on housing; $70 million on public facilities and infrastructure; $15 million on career/trades training; and $15.1 million to manage the Resilient SRQ program.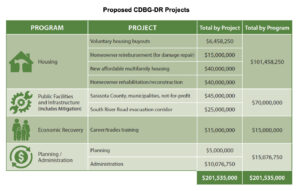 As is, the staff proposal already strays from HUD guidelines. The federal agency stipulates that Sarasota use at least 70 percent of the $201.5 million for projects that benefit low- and moderate-income residents. Also, the staff proposal only dedicates 54 percent to housing, HUD's top priority, after shifting funding to public infrastructure, such as expanding South River Road, a major evacuation route that was flooded during Ian last fall.
Even so, in the ensuing discussion, two commissioners tried to shift that balance even more. Neil Rainford presented his own spreadsheet, which would have dedicated much more of the federal funding to infrastructure such as South River Road, at the expense of housing.
The staffers warned that this would go against HUD priorities and could jeopardize the application.
Trying to help Rainford, Commissioner Mike Moran began to shuffle line items on Rainford's spreadsheet from one pot to another.
After clarifying that the county can ask HUD to change some line items AFTER receiving the grant, Commission Chair Ron Cutsinger eventually reined in Moran's line item shuffling.
Cutsinger called for a vote, and the original Resilient SRQ proposal carried 5-0.
The intent of shifting money from housing to other purposes did not go down well with one South County resident, who spoke up after the vote.
Kay Ryan: Hi, my name is Kay Ryan. I just have a short message really for Commissioner Moran. In the paper recently, the first line said 'Sarasota County Commissioner Mike Moran recently said he didn't want to reward underinsured residents for their bad behavior'. This made me stop and think. I do believe that he is an insurance company owner. And I'm just wondering how frequently he goes out and talks to his constituents to find out why they cannot afford insurance in Florida. They probably have a number of children who need food, they need clothing, they need shoes, among other things. To put them in that kind of bad behavior situation I thought was most inappropriate. I think all the commissioners should really have an obligation to get out and talk to the people that they're representing, to know why they are in the situations that they are. I myself live in a double-wide manufactured home in Alameda Isles – best neighbors I've ever had my life – and we had a fair amount of damage to our home. And in addition, my husband was in hospice care and later died. The only thing that I could get insurance-wise was Tower Hill. They've now become a self-pooled kind of insurance company. And they, after I paid my premium, decided you had to sign a POA to some unknown entity. So I think we really need to address the needs of people who have no insurance, and not to badmouth them. FEMA helped me greatly, and I hope that a great deal of that [HUD funding] can be moved to folks who are very, very needy and deserve the attention that they should get. Thank you.
J.W.: This has been Johannes Werner, reporting for WSLR News.
WSLR News aims to keep the local community informed with our 1/2 hour local news show, quarterly newspaper and social media feeds. The local news broadcast airs on Wednesdays and Fridays at 6pm
---