CURRENT EXHIBITIONS AS OF 4/27/22:
April-June 2022                  Patina Art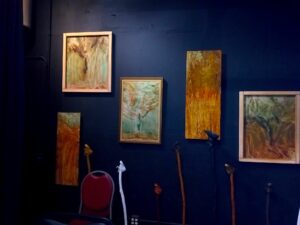 Patina Art is the name I gave to an art making  process I developed during a ten-year caregiving  period.  
TREES: The method is first to arrange copper and  steel objects outside in a shallow pool of vinegar  and salt, then lay fabric over the metals to  oxidize and dry in the hot sun. The fabric soaks  up the patina and leaves an abstracted image of,  in this case, trees. The finished product is then  glued to a substrate and preserved with a UV  coating.  
SPEECHLESS: A friend gave me a bottle of  archival ink and strips of scrap canvas. When  company came to my studio, I asked them to  choose a brush and write the alphabet on a  canvas with the ink. Using the same patina  method, the alphabet strips were colored and  woven into this illegible, diverse yet connected,  non-verbal communication. 
WALKING STICKS: When taking down invasive  trees from the backyard, I used small limbs to  strip the bark and expose the beauty of wood.  
Trees and plants symbolize a natural order, from  learning to walk to the need for assistance.  
Pamela's artistic career has evolved from dance to  Eco Art. She serves the community with volunteer  work as Art Curator for Fogartyville Arts Center and  Osprey Junction Trailhead Sarasota County Park.  She is an adjunct professor at Eckerd College, 2019  recipient of the John Ringling Towers Grant earning  Fellowship with The Hermitage in Englewood, Fl.  Pamela completed a Visual Art degree from Eckerd  College in St. Pete, Fl. and Master of Fine Art in  Interdisciplinary Art from Goddard College in  Plainfield, Vt.