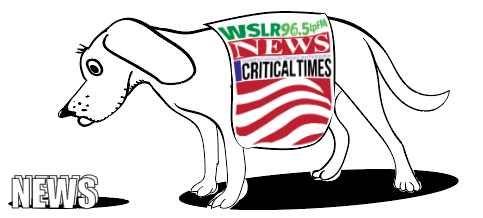 WSLR's current News Team consists of:
Becca Hadwen, News Coordinator/Producer
Omar Guerrero, Reporter/Producer
Jasmine Buie, USF News Intern
Yasi Bahmanabadi, NCF News Intern
Laura Fletcher, Covid Community Reporter
Headline News Contributors:
Allison Housh, volunteer, Daily Briefs
John Finnegan, volunteer, Daily Briefs
Bernadette Nowokeji, volunteer, Daily Briefs
Ivy Autman, volunteer, Daily Briefs
News Team Advisor:  Stan Zimmerman

Adventures of the Newshounds:
Episode 3: Becca does her homework
Hounds don't always run the fields, and not all reporting work happens in the field either. A lot of the work that goes into putting together a story is unexciting and tedious. We do it so you, our listeners, don't have to.
Sniffing out a budget story requires poring over budget plans, revenues and expenditures, understanding the web of decision-makers. We go all that way to learn everything inside and out so that we can glean the most important information and share it with you. That way, you have all the tools you need to be an engaged member of our community.
Right now, we're trying to grow our program to expand and improve our coverage. We have a small team of part-time and volunteer journalists that we want to grow. When you support our work, you invest in yourself and the wellbeing of your community.
Episode 2: Stan recalls an interesting experience in Russia.
Thirty years ago I walked down a long block in the Leningrad winter, late for an interview with a Russian submarine designer. The slush on the sidewalk disguised pot-holes deep enough to snap an ankle. I watched the footsteps of locals to avoid the danger.
"The Wall" was down, Soviet communism was dead and hunger was again a Russian reality. The police and military relied on their own resources to find enough carbohydrates to feed their members. My interpreter was late for the last interview because he found 10-kilo sacks of potatoes to buy for his family.
He was waiting for me in the snow flurries outside a grey office building housing the the Malachite Design Bureau. Inside were the men who created the fastest and deepest-diving attack submarines in the world. They were seeking deals with the west, offering their technology and techniques in return for cash to keep their enterprise going. Instead of shooting torpedoes, they wanted to sell them.
As we walked into the building's security station, my interpreter looked around at the guards and gates. "You know," he said. "Even James Bond couldn't get in here."
That's what news reporters do. They go to places you can't or wouldn't and come back to relay what they found, what they heard. In this case it was highly sophisticated engineers and managers facing starvation, willing to sell national secrets openly. We sat down in an ornate conference room and started an eight-hour interview.
At WSLR and WBPV, we are training a new generation of reporters. Not just the 5Ws & 1H, but the mechanics too. The art of interviewing and writing, the need for good notes, the dynamics of good audio, all the tools in a reporter's kit bag.
We encourage local colleges and high schools to send us prospective cub reporters to help us on the news team. And of course, we solicit your help too. To listen critically, tell us when we go wrong, and give us ideas for new stories. And we solicit your financial support too. I'm one of the many volunteers at the station, and we hope our cubs won't face starvation while learning the fundamentals of excellent journalism.
Episode 1: Omar on the impact of Covid on local businesses
When I first started working for the Critical Times Show, one of my first story assignments was to interview local businesses about their experience during the COVID-19 pandemic. At the time, the lockdown had just begun and people were feeling anxious about the future.
The business owners I interviewed had lived very different realities during the pandemic — some were able to transition well, while others felt they got left behind. The pandemic had them all wondering what could come next, hopeful but also cautious about the future. Because of WSLR and the Critical Times Show, I was able to amplify the worries and doubts of Sarasota' service industry, making sure that the entire community listens to these stories in order to understand their community just a little bit more.
I remember feeling nervous about being on the air for the first time, but also grateful that I was able connect with my local community in a way I never had before. I was able to interview the owners of several of my favorite restaurants, as well as some people I had never met before. The experience not only showed me the value of local perspectives, it also helped me understand what it means to be a reporter at a community radio station.
---