Want to become a WSLR programmer?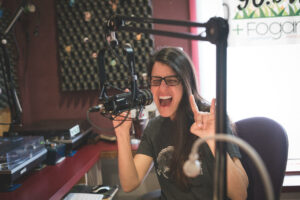 To become a programmer at WSLR, you must first be an active volunteer with WSLR+Fogartyville. We are serious about building community, and we want YOU to be a part of it. Fill out a Volunteer application and find a way to get involved with our station and Fogartyville. We want to get to know you and for you to get to know us, who we are, and what we stand for. To be considered for a program on WSLR, applicants must log six hours of volunteer time with our organization.
How are programming decisions made?
The WSLR Radio Programming Committee, a group made up of current programmers, board members, listeners, and staff, meets on the first Monday of every month to discuss programming needs and to consider new program applications.
As an applicant, it is great to get to know our current program schedule by listening in and familiarizing yourself with the programming we currently have on air, and thinking about how your concept could bring something fresh to the frequency. WSLR features locally produced programming and events that present cultural, artistic and political perspectives currently underrepresented in the media. Our goal is to inform and empower listeners to play an active role in WSLR and in their community. Our station promotes equality, peace, sustainability, democracy, health, and social and economic justice. As you are developing your program concept, keep that mission in mind.
You will need to have a few other items completed to be considered for a slot on WSLR.
Requirements for Program Consideration:
Log 6-Hours of volunteering with WSLR+ Fogartyville
Submit a Program Application Form
Create a 20-30 minute demo for your proposed show
Completing these requirements does not guarantee a slot within the WSLR schedule.
---