Venice developer's controversial shopping center approved
Written by WSLR News on Thursday, July 13, 2023
The Venice City Council voted to approve a shopping center that Pat Neal wants to build on a wetlands reserve. Locals claim that Neal promised that the wetlands would never be bulldozed.

By Ramon Lopez
Original Air Date: July 12, 2023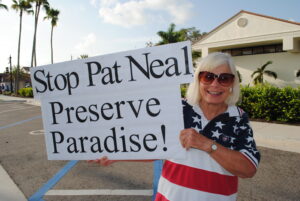 Official Transcript
Johannes Werner: Big developer meets small town. The Venice City Council on Tuesday voted 5-2 to approve a controversial shopping center Pat Neal wants to build in North Venice. WSLR's Ramon Lopez reports.
Host: It was already a hot and humid day at 8am when about two dozen concerned citizens gathered in front of Venice City Hall. They were there to protest an impending move by the Venice City Council members to rezone land at Jacaranda Boulevard and Laurel Road. The signs they wave to passing motorists read, "Listen to voters." Another said, "Our vote, our voice, our Venice." Yet another declared, "Stop Pat Neal, preserve paradise." One protester said "Builders are raping our city."
Organizers of the rare protest said they hoped to sway the council's final vote. The last item on the agenda of the city council that day was the second and final reading for controversial amendments that would ultimately allow developer Pat Neal to submit plans for The Village and Laurel and Jacaranda shopping center. The land in dispute is in the CLO subdivision in the 500 acre Molano development straddling Jacaranda Boulevard.
Plans call for a 70,000 square foot shopping center on 10.4 acres, including 6.6 acres of wetland. It is expected to feature a 47,000 square foot Publix grocery, a 5,000 square foot restaurant and other stores. Last month, the Venice City Council voted in favor of the controversial commercial development after marathon hearings in May and June. They set July 11 for their final vote on the matter.
Local residents claim they were promised by Neal that the existing wetlands, visited by endangered birds and other wildlife, would never be bulldozed for an intrusive commercial development. They are also concerned about noise, traffic congestion and pedestrian safety. Opponents say Neal used a bait and switch scheme to sell houses.
Neal said he is within his legal rights to build the shopping center on wetlands that are no longer serving a purpose. He says a shopping center north east of I 75 will reduce, not increase local traffic. Jill Pozarek disagrees.
Jill Pozarek: I'm not against the grocery store at all. But under the laws written and under which the Neal organization filed for this amendment, he doesn't have a right to do so. And if you don't follow the laws, they're worthless.
Host: Debbie Gericke also testified.
Debbie Gericke: We also heard you discredit the planning commission ruling, but not one of you gave a specific reason why you were denying their seven points. That was not warranted. One of you stated on several occasions, "Please know you're heard." Let me share with you that the voters of Venice do not feel they were heard.
You also ask why a developer is not entitled to make money. Of course the developer is entitled to make money, but not at the expense of deceitfully cheating people. You said you also need to look at Venice as a whole when considering your decisions for the shopping center. Folks, within an eight mile radius of this location, including Detwiler's, there are eight grocery stores, four of which are Publix. North Venice is not going to go hungry. I believe it's human nature to listen to these comments and feel angry.
Host: In March, the Venice Planning Commission recommended against the developer's request, which council member Fiedler said they were not bound to that recommendation.
Mitzie Fiedler: The planning commission is an advisory group. They have said things before us, they voted before us, and we've gone the opposite direction on many things. We're not required to follow the guidelines of the planning commission.
Host: Fellow Council Member Moore voted in favor of Neal on the planned project's merits.
Helen Moore: We are here to make a determination on a zoning map amendment, period. We're not here to rape Publix or Trader Joe's or gas stations or any other anything. This is a zoning map amendment only. And I think a lot of the angst that's been going on could have been avoided had we focused on what we are actually assigned to do today. Some of the expert testimony was far more credible, more thorough, more pragmatic and unemotional than others were, and that made a difference to me.
Host: But the matter isn't over yet. The opponents will continue their campaign and subsequent public hearings on the project's site plan and traffic study. Lawsuits to block the project may be a last resort for homeowners who are upset and feel betrayed.
Meanwhile, they are deciding whether to ask circuit court to review the Venice City Council's decision. They have 30 days to make that move. But a new state law, in the event of a loss in circuit court, would require them to pay Neal's attorney's fees. That may discourage this option.
After the hearing concluded, WSLR News spoke briefly with Pat Neal.
Pat Neal: They said that they believed that the testimony of the applicant was credible testimony, professionally given and was accepted. They also said that some of the other testimony was based on emotional and other concerns, which they for the most part rejected. So they made a conscientious decision, it happened to be in this case, favoring the applicant.
The law in Florida under Snyder is they have to take competent, substantial evidence, weigh the evidence and make a decision, and they made a decision. We knew the facts from the first beginning, and we knew the law and had good counsel and good testimony. So no, in all due respect we thought we'd win this, and we did. We've had 124 different applications in these communities over the years, we're experienced in the planning process and the team that we have is very experienced.
This is the business that we've learned to be in over these years. Usually homeowners don't have the same assets. This is just the everyday course of building things in Florida and it's part of our job. It's the everyday business of being in the development business in Florida. It's not happy or sad, it just is.
Host: This is Ramon Lopez for WSLR News.
The Critical Times is WSLR's effort to keep the local community informed with our 1/2 hour local news show, quarterly newspaper and social media feeds. The local news broadcast airs on Wednesdays and Fridays at 6pm.

---