Jazz and Theater: Keeping the Beat with Hermitage Fellows Stacey Rose and Fay Victor
Event info
| | |
| --- | --- |
| Date: | Thursday, February 23, 2023 |
| Time: | 5:00 pm |
Details
Jazz and Theater: Keeping the Beat with Hermitage Fellows Stacey Rose and Fay Victor | Thursday, Feb. 23, 5 p.m. | $5 registration fee
Register HERE.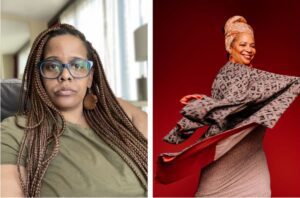 Known for her improvisational prowess, jazz vocalist and spoken-word storyteller Fay Victor joins playwright Stacey Rose's biting wit and keen observation in this musical and theatrical experience, presented in partnership with Hermitage and Manasota ASALH at Fogartyville Community Media and Arts Center!
Rose is a provocative voice at the forefront of celebrating and exploring the Black experience. Victor is considered a pioneer in her field, with The New York Times describing her unique hybrid of spoken word and singing as the "scat style for today's avant-garde." Hear work from these innovative Hermitage Fellows and gain insight into their creative process.
Playwright and Hermitage Fellow Stacey Rose is a Charlotte-based, award-winning, nationally produced playwright. Her work celebrates and explores Blackness, Black identity, body politics, and the dilemma of life as the "other." Stacey has held fellowships/residencies with the Arts & Science Council, Dramatists Guild,Playwrights' Center, Sundance Theatre Lab, The Goodman Theatre, The Civilians, Tofte Lake Center, and now the Hermitage Artist Retreat. Her work has been presented at the Fire This Time Festival, The Lark, The Amoralists Theatre Company, Rattlestick Playwrights Theatre, National Black Theatre, Pillsbury House Theater, Barrington Stage, and Kansas City Rep. Stacey's plays America v. 2.1, As Is, and Legacy Land were featured on the Kilroy's List. Stacey is a recipient of a 2019 Virginia B. Toulmin Foundation Women's Commissioning Grant in partnership with Rattlestick Playwrights Theatre and an Alfred P. Sloan foundation commission in partnership with Manhattan Theatre Club. She currently writes for 9-1-1 on Fox. Along with director Martin Damien Wilkins, Stacey co-founded the Queen City New Play Initiative to support local and southern playwrights in the creation of new work for the stage.
Hermitage Fellow, jazz vocalist, and spoken word storyteller Fay Victor is a sound artist, composer, educator. "She's essentially invented her own hybrid of song and spoken word, a scat style for today's avant-garde," – The New York Times. Fay Victor uses performance, improvisation, and composition to examine representations of modern life and blackness. Based in Brooklyn, NY, Fay's 'everything is everything' creative aesthetic permeates her working approach to the vocal instrument. Having released eleven critically acclaimed albums as a leader, including her latest release,"We've Had Enough!" with her improvising quartet SoundNoiseFUNK (ESP-Disk) in October 2020 and having performed with luminaries such as Gary Bartz, Archie Schepp, Nicole Mitchell, Randy Weston, Roswell Rudd and Moor Mother, Victor has shown the through line of her unique vocal force and expansion. An innovative educator, Victor is on the faculty of the College of Performing Arts at the New School, where she teaches interdisciplinary practices and Vocal Performance, and at the ROC Nation School for Sports, Music and Entertainment at Long Island University, where she runs a private vocal studio.