Passerine CD Release Concert
---
Event info
| | |
| --- | --- |
| Date: | Saturday, November 18, 2023 |
| Time: | 8:00 pm |
Details
Passerine CD Release Party • Saturday, Nov. 18, 8 p.m. •Doors open at 7 p.m.*

Tickets: $17 members; $20 non-members, $10 students (ages 13+)
Click HERE to become a MEMBER!
Passerine was formed in 2009 by singer/songwriter Carmela Pedicini (guitar, vocals) and David Brain (resonator guitar, vocals). It started when the pair performed as a duo on the "singer/songwriter" stage at the Sarasota Folk Festival and decided to explore their shared interest in traditional acoustic folk music.
Sara Stovall (vocals, violin) was originally recruited as a violinist in 2011, but soon stretched her wings as a vocalist and a songwriter in her own right. Sara's classical training, combined with her western Kentucky roots and her versatility across musical genres from punk and psychedelic rock, became an important part of Passerine's musical explorations. "Transmitter" Doug Conroy (bass, vocals) joined up in 2014, bringing his history as a bassist who has played everything from ska and Latin music to the more electric version of Americana.
Over the years, Passerine has been featured at major folk and music festivals around the state of Florida and has been touring nationally since 2012, playing every sort of venue from intimate listening rooms to big festival stages.  In 2017, they added a European tour to their resume and plan to return once international travel is easier again.  The group released their first full-length CD, "Another Song About a Bird," in July, 2012. Their second CD, "Nest of String," was released a year later in 2013. Their 3rd CD, entitled "Harbingers," was released in June, 2016.
The pandemic interrupted recording of their 4th album, "Shiny Things," so they are especially excited to be celebrating its release and sharing songs that they haven't really had the opportunity to play for audiences yet.
Passerine's music occupies a zone somewhere between modern folk, progressive bluegrass, and what is loosely called "Americana" or "roots" music. Sara once described it as "Ameri-kinda-grass." It's not quite bluegrass, not strictly folk, both traditional and contemporary, sometimes edgy and sometimes sweet.
With a repertoire of original songs as well as their own arrangements of traditional songs, Passerine hopes to carry on the living tradition of acoustic folk music rooted in popular experience, collective memory, and shared wisdom. In this quest, they have found inspiration across a wide musical spectrum. By combining their diverse musical interests with instrumentation usually associated with a traditional string band, and with vocal harmonies that sometimes move outside the usual structures, Passerine has created a sound that is both familiar and unique, whether the song is a sweet ballad, a foot-stomping bluegrass tune, or one of their more rocking originals.
Paid for in part by Sarasota County Tourist Development Tax revenues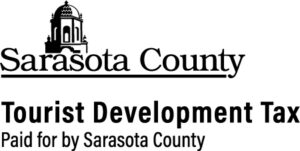 *Beverages and snacks will be available for purchase. No outside food or drink, please.