Poets Unplugged: Voices of Power Featuring PoetShels
Event info
| | |
| --- | --- |
| Date: | Saturday, November 12, 2022 |
| Time: | 7:00 pm |
Details
Poets Unplugged: Voices of Power Featuring Poet Shels | Saturday, Nov. 12, 7-10 p.m.
Tickets: $5 general admission
PoetShels is the featured spoken word artist in the second evening of our six-part Poets Unplugged: Voices of Power series, which is curated by poet Melanie Lavender, host of "Community Conversations With Mel" on WSLR.
About PoetShels aka Michelle Morton: Michelle Mortonwas born in Tampa. She received her bachelor's degree in communication with minors in journalism and disciplinary studies. Michelle has experience working in the political news arena of broadcast television in Washington, D.C. In addition, she received her master's degree in clinical mental health counseling.
She moved back to Tampa four years ago with the mission to use the tools she learned to restore and build her community. Michelle is an Advocate, Clinical Therapist, Coach, Writer, Spoken Word Artist and Speaker. Her passion is to serve the young girls and women of her community. She is a member of Delta Sigma Theta Sorority Inc.
In 2018 Michelle founded As She Speaks Coaching, which is dedicated to helping women fulfill their calling and purpose. In addition, Michelle Morton (PoetSheIs) was once the cohost of "Poetry Is" on WMNF in Tampa. She is also a former member and poet from Black On Black Rhyme. Her purpose and mission is to help women find their voice, heal, and walk in the fullness of their calling. She has successfully had ongoing events such as As She Speaks Open Mic and mental health and  writing workshops. As She Speaks Open Mic was nominated by Creative Loafing Best of The Bay magazine as one of the Top Open Mics. In addition, Michelle was featured on Creative Loafing for her open mic. As She Speaks Open Mic is the only all women's Open Mic in Tampa.
G's Southern Kitchen will be at Fogartyville for the event. Beverages will also be available for purchase.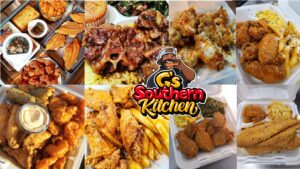 Thanks to the Gulf Coast Community Foundation for their sponsorship of our Spoken Word series.