Behind the Mic: Sheila Jane
Written by WSLR Author on Tuesday, February 7, 2023
Sheila Jane promotes her vision for indie listening and explores beyond the mainstream on "INDIE-licious."
"Something you won't hear on regular radio"
Longtime lover of music that breaches the mainstream, Sheila Jane has been curating happiness on WSLR's program "INDIE-licious" for more than 10 years. Every other Tuesday from 4 to 6 p.m. on 96.5 FM, you can tune in to Sheila's carefully constructed sets that aim to uplift every listener with something new.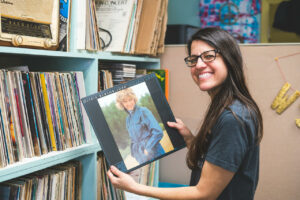 Sheila aims to avoid the mainstream pop that typically winds up on drive time radio. With sets that involve traditional indie music, world, punk, and new wave, Sheila hopes to introduce something unfamiliar to each listener, and for them to fall in love with it. She explains, "I hope to have a happy show. I also hope that people can learn about different types of music. I know people often say 'there's no good music anymore,' but there's so much great music out there, so I hope that people can find new songs they love that they didn't know existed." 
Avid about the introduction of lesser known artists to drive time radio, Sheila's recent musical interests include the likes of Joy Oladokun, Shamir, NoSo, Car Seat Headrest, Anjimile, and more. Passionate about social justice causes, Jane also pushes to redefine indie and punk music to disrupt its history of exclusivity. "I'm 51, so I play plenty of older punk and new wave stuff from back in the day that people will recognize," she says. "But that said, it's super easy to skew male and white when you do that, because that's what labels pushed back then, so it's really important to me that I'm playing a good representation of women, a good representation of non-white artists, a good representation of anybody on the LGBTQ+ spectrum. I want people to not have a definition of indie or punk as just being one thing." 
Sheila's love for the unknown gems that shine on "INDIE-licious" does not completely eclipse her fondness for pop music, however, as she happily listens to Billboard Top 50 regular, Taylor Swift, with her daughter.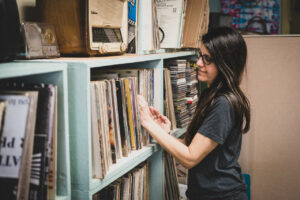 With a zeal to discover new music and experience it live, Sheila has maintained a passion for music festivals and live performances for decades. Her favorite memory details a chance encounter with American dance-rock band LCD Soundsystem at Lollapalooza. "I was walking to go see MGMT, I didn't even know LCD Soundsystem was on. As I was walking and dancing, probably slightly buzzed, I heard this amazing sound. I immediately stopped and turned, my feet just swiveled and I went to see them. It was one of the best live shows I've ever seen." 
With other fond live show memories, such as the lead singer of the Brazilian rock band Cansei de Ser Sexy removing layer upon layer of colorful unitards while performing, or Karen O of the Yeah Yeah Yeahs donning a zebra print cape and screaming at the top of her lungs into the microphone, Sheila has certainly learned the significance of stepping outside the mainstream to explore the extensive realms of music. Her love for all things indie reaches back to her childhood in the late 70's. In high school, she even pushed for funding to buy a stereo to establish herself as the "lunchroom deejay," providing music for classmates in the school cafeteria.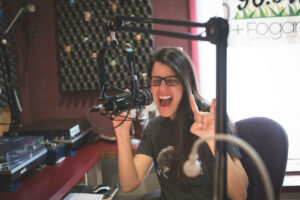 Sheila's experience within the realm of indie– and other– music manifests in her careful creation of every "INDIE-licious" set that airs on 96.5 FM. Conscious of the importance of making sets that both sound and feel good, she starts preparing playlists weeks in advance. She explains, "Usually about a month before my show I'm dropping songs that I might want to play into the playlist. I research my songs, too. Some people watch TV in their spare time, but in my spare time I'm researching different songs. Not all songs sound good together, so I do something called sequencing and I make sure the songs sound good next to each other, listening wise and thematically." 
Through meticulous curation, passion for independent labels and unique artists, and a personal history steeped in live performances and eccentric music, Sheila Jane's "INDIE-licious" embodies her view of music as representative of "therapy, peace, and happiness." 
Tune in for "INDIE-licious" therapy on WSLR 96.5LPFM every other Tuesday from 4 to 6 p.m.
---