NUESTRA MUSICA 22 COUNTRIES AND ONE TERRITORY
Written by Mariano Vera on Sunday, August 6, 2023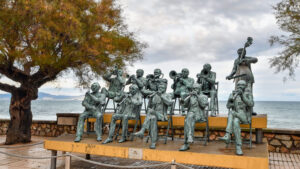 Tuesday 08-08-23 – WSLR 96.5 Sarasota, and WBPV 100.1 West Bradenton from 11:00 am until 1:00 p.m. (EST). Also available on our App (Android and IOS); and for two weeks on WSLR Archives: https://archive.wslr.org/
With Nuestra Musica we present the rhythms, folklore, native instruments languages and traditions of Latin America, Spain, Portugal and Cape Verde. From Tango to Flamenco and all Latin music in between, and in our show we play music from 22 countries and one territory and Tuesday 08-08 we are doing 11  with music from Argentina, Bolivia, Brazil, Cape Verde, Chile, Colombia, Costa Rica, Cuba, Dominican Republic, Ecuador, El Salvador.
And on 08-22-2023  Guatemala, Honduras, Mexico, Nicaragua, Panama, Paraguay, Peru, Portugal, Puerto Rico, Spain, Uruguay and Venezuela.
Ariel Ramirez, Los Fabulosos Cadillacs, Opus Cuatro, Los Kjarkas, Duo Hermanos Gaitan Castro, Gladys Moreno, Joao Donato, Gal Costa, Neuza, Teofilo Chantre, Maria Alice, Los Huasos Quincheros, Los Huasos de Algarrobal, Jorge Jimenez & La Romlpehueso, Paula Arenas, Toto La Momposina, Luis Montalbert, Maria Pretiz, Grupo Cimmarron de Cuba, Anthony Santos, Juan Luis Guerra, Josean Jacobo & Tumbao, Trio Colonial, Charijayac, Cesar Donald and Tony Acosta.
---