NUESTRA MÚSICA – "CANTAUTORES" – TUESDAY 09-20-22 FROM 11:00AM UNTIL 1:00PM
Written by Mariano Vera on Monday, September 19, 2022
CANTAUTORES (SINGER/SONGWRITERS)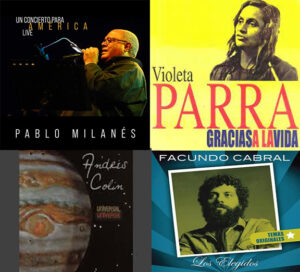 Tuesday 09-20-22 WSLR 96.5 Sarasota, and WBPV 100.1 West Bradenton from 11:03 am until 1:00 p.m. (EST). Also available on our App (Android and IOS); and for two weeks on WSLR Archives:
https://archive.wslr.org
/
We are celebrating Cantautores: Singers/songwriters from Latin America, Spain, and Portugal.
We are presenting: Local Songwriters Andres Colin and Renesito Avich and Rosana, Pablo Milanes, Guadalupe Urbina, Atahualpa Yupanqui, Joaquin Sabina, Shakira, Jarabe De Palo, Piero, Violeta Parra, Victor Jara, Silvio Rodriguez, Chabuca Granda, Alberto Cortez, Cecilia, Mixael Cabrera, Javier Ruibal and much more….
---