Behind the Mic: Sharon Preston Folta
Written by Jesse Coleman on Wednesday, December 28, 2022
Sharon Preston-Folta delves into her passions for music, the arts, and radio with her programs Radio Reset and TownTalk Tampa Bay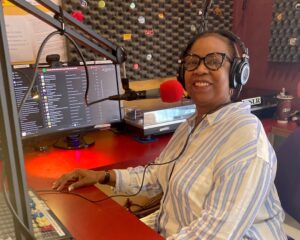 "Music is as essential as water, air, and food… It's a part of my life, it's in my DNA."
Sharon Preston-Folta does not shy away from expressing her passion for music, with an extensive background in the many sides of radio, as well as a deep personal connection to musical excellence. Her father, the legendary Louis Armstrong, and mother, variety show performer Lucille "Sweets" Preston impressed upon her the significance of music in relation to community and expression at an early age.
"It's been with me since birth, music was always played in my home," she explains as she details her youth. As a child growing up in New York, she continued the family legacy with an affinity and aptitude for music– learning seven instruments and developing a proficiency in reading sheet music. Preston-Folta details her relationship with her father and her upbringing in the 2012 book Little Satchmo: Living in the Shadow of My Father, Louis Daniel Armstrong and the 2021 documentary Little Satchmo: The Secret of a Legend. Her relationship with music and appreciation for community has led her down a variety of paths in life, one of which led to Sarasota's own community radio, WSLR 96.5, as the host of two programs on the station, Radio RESET and TownTalk Tampa Bay.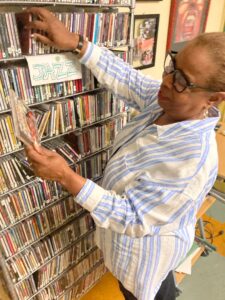 In 2003, Preston-Folta and her husband left New York and set out on an earnest search for a warmer weather climate. One day, her husband happened across a magazine article that detailed the best cities to move to for retirement. Our own sunny Sarasota graced the top five. So, the couple took a trip south, stayed in a Lido Key hotel, and met with a realtor to view local properties. They fell in love with the area, and eighteen years later, they are still living in the first home to which their realtor had taken them.
"Sarasota always had a great reputation, especially in the arts, and as a biracial couple we wanted to be someplace that was art friendly, which meant more diversity than not," Preston-Folta explains. Her recognition of the connection between the arts and diverse demographics in the Tampa Bay area population culminated in her discovery of WSLR+Fogartyville, a chance encounter that launched two of WSLR's quintessential programs. Five years ago, during her job as an Account Executive at the Tampa Bay area's local NPR station, WUSF, Preston-Folta received a call from the co-founder of WSLR+Fogartyville, Arlene Sweeting. The two sat down to follow up on business, along with WSLR's Dave Beaton,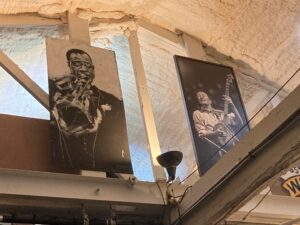 in Fogartyville's warehouse listening room. During the meeting, Preston-Folta happened to glance up at the walls and noticed two painted portraits. The first was the radical folk singer Pete Seeger, and the second, to her surprise, was her late father, Louis Armstrong. That coincidence changed the tone of the conversation, and at the end of the meeting, Beaton and Sweeting invited Preston-Folta to apply to be an on-air programmer at WSLR.
Preston-Folta was more than qualified for the time slot. With a BA in communications from Iona College, experience as a college deejay, and multiple jobs in radio marketing and advertising with stations such as New York's WHN and ABC, Preston-Folta has extensive knowledge of what she labels the "other side" of radio. As a young adult, she wished to pursue the performance aspects of the business, however, she felt deterred as a young single mother,
"In the early '80s, it was not easy to get a job in a major market without making a name for yourself. I didn't feel that I could take a baby by myself and travel wherever to get on the air with no support system."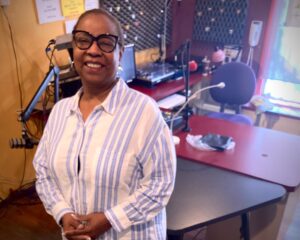 Regardless, she overcame this hurdle and began her career in radio advertisement. Forty years later, Preston-Folta continues her position at WUSF and hosts two programs on 96.5 WSLR, TownTalk Tampa Bay, and Radio RESET.
Radio RESET came first, for which Preston-Folta had a set intention of featuring playlists that were entirely composed of female artists. However, she soon realized that excluding male artists was not a necessity for highlighting female artists. In developing the style and genre selection of the show, she gained an understanding that "the best shows were the genres that I personally like, that I had more knowledge of." As a result, Radio RESET was destined to become an hour-and-a-half feature of female artists in R&B, jazz, the American songbook, Broadway, Afro-pop, and Brazilian music. The show airs every Saturday from 9:30-11 a.m. and features a wide range of artists, including some of Preston-Folta's favorites: Ella Fitzgerald, Laura Nyro, Barbara Streisand, Bette Midler, Carol King, The 5th Dimension, and much more.

Radio Reset
"As I listened to the station and the public affairs shows, [I realized] none really focused on African-American voices. I asked management if I could start TownTalk to focus on African-American voices in the wider Tampa Bay community."
TownTalk Tampa Bay, an interview-driven talk show with the intention of highlighting leading voices in Tampa Bay's communities of color, came to be. Preston-Folta details her goal for the show as a "plain-speak," informative, personable resource for the listener. In seeking out individuals to interview, she places herself in the role of the consumer and considers what her listeners may need to hear during any particular month, week, or day.
"I pay attention to what's going on in the community, what people are talking about. For example, when the Supreme Court struck down Roe v Wade, no matter who I had scheduled, I knew I wanted to speak with someone from Planned Parenthood."
Relevance, helpfulness, and understanding form the backbone of TownTalk, and Preston-Folta works diligently to give listeners something to ponder during their day, or insightful information that may apply to them. Concerned that her listeners might be deterred by a weekend show that relies on informational interviews, she explains,
[I'm] really looking for that humanity, I don't want to throw out a bunch of data, none of my interviews are data driven because they're in the morning on a Saturday. That's not a day I want you to hit me with a lot of data. I want to be informed, but I want to be spoken to. I want my interviews to lead with just a nugget or two of something that adds to someone's knowledge during their day. Something that lifts them up or makes them think."
Highlighting Black voices within the community allows Preston-Folta to "create awareness of the richness and talent that we have in Sarasota in our communities of color," and also offer resources to these communities that otherwise might not be accessible. TownTalk helped catalyze a growth in diverse perspectives at WSLR, such as the creation of the Manasota Arts Center program (biweekly Saturdays from 9 to 9:30 a.m.), which features minority artists in the Manasota area.

TownTalk Tampa Bay
Preston-Folta's involvement in local politics, community action, the arts, and radio broadcasting creates a perfect mix of experience and passion within her programs at WSLR. Her unique childhood as the daughter of Louis Armstrong allowed her a different perspective toward music and performance, one that informs her mood and exists in her day-to-day life. Her mother's career as a vaudeville performer gave Preston-Folta an appreciation for community and equity in the treatment of others. These values persist in her programming, both in her cultivation of playlists for Radio RESET, and the conversations she develops on TownTalk.
-Jude Zelznak
---