2023 Fall Membership Drive Information
Wednesday, October 4th – 10th
"Listen Local! Act Local!" 2023 Fall Membership Drive Presentation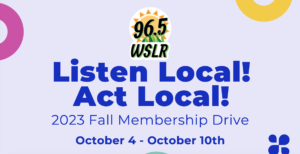 Station Information 
Updated PSAs: Google Drive PSAs
WSLR Guide for Programmers: Click Here
WSLR+Fogartyville's Core Values: Click Here
Posting to the WSLR website: Video Training
Taking Callers On-Air with Dave Beaton: Click Me!
Click for the Local Music Library Listing
Downloading, Sending, and Maintenance
Below are resources for programmers about how to download, send, and use a few other common softwares for the station.
Cell Phone Usage
Below are instructions on how to use a Cell Phone to record and send audio.
---