Behind the Mic: Rob Demperio
Written by Jude Zelznak on Wednesday, January 18, 2023
Rob Demperio details his unique music taste and inspiration for the bizarre world of "Lumpytunes." 
"If it irritates, it airs."
When asked how he curates the wacky sets that air on WSLR's "Lumpytunes," host Rob Demperio explains, "We grind the people up and we put them in the radio." Don't let that scare you off, though, because Demperio (aka the Head Lump) wants you to keep an open mind when tuning in to 96.5 FM on Tuesdays from 11 p.m. to 1 a.m.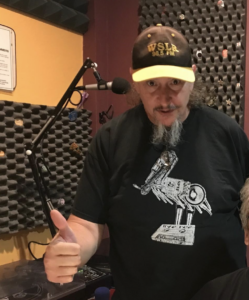 The Head Lump, also called the "Mayor of Noiseville" by his wife, prides himself on the difficult listening that is "Lumpytunes." After all, his original inspiration for creating sets that can push anyone out of their comfort zone was this: "If my wife found it irritating, if she could not listen to it at home, I could play it on the radio show."
"Lumpytunes," one of the longest running programs at WSLR, is known for its tagline, "Definitely Difficult Listening," but Demperio does not intend to inspire a pure struggle for his listeners. With sets that range from avante-garde, to musique concrète, to art rock, to spoken word and more, "Lumpytunes" breaks down the most notable borders in music today. "I think the goal is to remind people that music doesn't have to be melodic to be listenable," he says. "Music isn't just jazz or rock or the normal genres, it goes beyond now. It's more about the feeling of what the music is doing to your molecules than how the music is moving your feet. It's sonic, and I celebrate the sonic in music."
A self proclaimed lover of "weirdo" music, Demperio grew up in St. Petersburg surrounded by a music-loving family. His first dip into eclecticism happened at age 20, when he became a fan of Frank Zappa who "wowed me into liking weirder music than the rock I was normally into," Demperio says.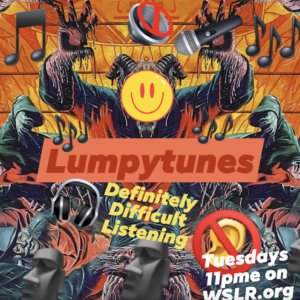 After a move to Sarasota in 1989 to attend Ringling College of Art and Design, Demperio's love for the funky parts of the local music scene inspired the creation of "Lumpytunes." He began volunteering and using his graphic design skills to create T-shirts and posters for WSLR+Fogartyville, and started putting together avante-garde sets for his program in 2008.
Inspired by festival artists and local music scenes, Demperio has spent years forming friendships with creators who regularly recommend new music and help him to develop the "sound collages" you can hear on "Lumpytunes."
His passion for the new, rather than the old, invigorates his exploration, even if some of the sounds he runs into are a bit… odd. "This one guy in Tampa sends me new music twice a week. Some of it is listenable and some is like 'why did you record that?' But it's his expression, it's his thing." Nonjudgmental and open minded, Demperio strives to convey to listeners the significance of feeling in music, not just melody and lyrics. "Lumpytunes" sets also feature interviews with local noise makers and Demperio wishes to emphasize the importance of local music scenes.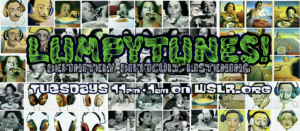 Experience Demperio's love of noise in all its forms on "Lumpytunes" every Tuesday from 11 p.m. to 1 a.m. for a glimpse into the under-represented realm of music. 
---